Commercial Service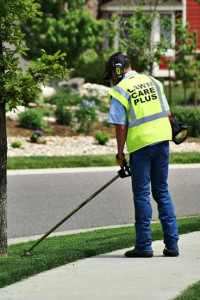 Lawn Care Plus Commercial ground maintenance division services all business types, HOA's, Apartment complexes and many more.
Healthy, well groomed turf and plants, weed free, well planned irrigation avoiding wasteful/unnecessary watering.
Water management at Lawn Care Plus is a big deal. We start with a complete check of the entire system, areas where it can improve by installing new water saving irrigation, checking proper water times  and adjusting it on a very regular schedule. We help you water only what you need to water.
Colorado Agriculture Certification for proper handling of chemicals. We think knowing how to properly manage chemicals should be one of the first things asked of a lawn care company.
We can insure your properties appearance will always be professional, along with our customer service. As a locally owned business we can also help keep your costs down.
Mowing & Ground Maintenance
Rough/Native Mowing
Irrigation Management, Repairs & Installs
Fertilization
Landscaping
Weed Control
Snow & Ice Control
Playground Equipment Maintenance