Masterful outdoor irrigation management is crucial to obtaining a healthy lawn and landscape while ensuring usage efficiency & water conservation.
Freeze damage can be prevented. Learn how to protect your system with our Winterization Help!
Guaranteed System Winterization & Blowout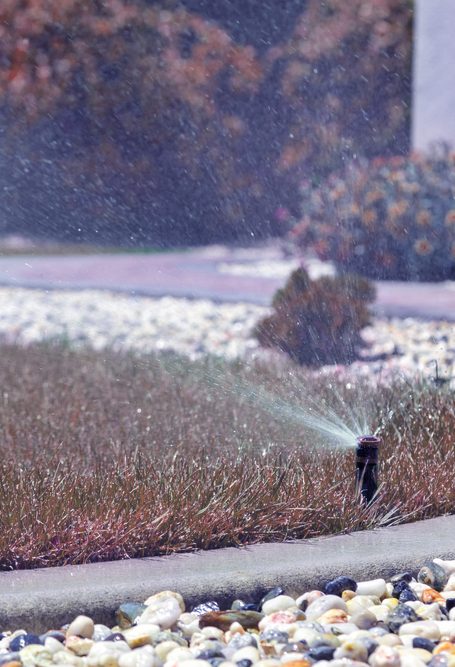 Fall winterization is easy, but repairing freeze damage is not. Protect your system this winter!
Your system shut down should be handled by insured professionals to protect your home and family. A frozen sprinkler line or water supply pipe can lead to costly repairs to your irrigation system and potentially significant damage to your home. 
Each fall Lawn Care Plus performs hundreds of system blowouts, and each spring we repair dozens of systems not professionally winterized by us. We never look forward to a damaged system winterized by by "whoever was in the neighborhood," but it happens each year without exception. Don't let your system become damaged due to poor winterization.
Lawn Care Plus is insured and guarantees your system from the time we turn it off to the time we start it back up in the spring!
Sprinkler System Turn-On & Adjustment Services
Water savings starts with a spring assessment, but is a year-round concern. Schedule a professional inspection and adjustment service to locate & resolve system issues before they become costly water-loss or turf damaging problems.
Proper sprinkler coverage can be deceiving. An area that appears to receive adequate water but is still looking dry might be missed by the sprinkler head. Lawn Care Plus will address coverage surplus and deficits within each zone.
Sprinkler heads and nozzles age over time which leads to dryness and cracking of bodies, seals, and gears. Your sprinkler head might be causing significant water loss and poor area coverage. 
Water pressure loss is a serious issue. You are getting less water to the lawn, shorter coverage area, and possibly losing much water to a leak. Stop the water loss immediately with Lawn Care Plus!
Irrigation Install & Repair Services
Whether your job is big or small, we have seen (and done) it all!
If you're experiencing some sprinkler system blues or are considering a renovation, Lawn Care Plus is your go-to expert! Our irrigation division holds over 50 years of experience with residential, commercial, and custom builds.
Schedule a single visit repair or assessment. Our technicians arrive with a full inventory of sprinkler components to save you time & money!
Valve repair & replacement.
Backflow preventer and freeze damage.
Broken heads & clogged nozzles.
Drip irrigation and landscape systems
Cracked lines, leaks, and other water loss issues.
Mainline replacement